General News
OUR LADY OF GUADALUPE MASS & FEAST SCHEDULE
Celebrate the Feast of Our Lady of Guadalupe with us at Holy Family Parish! / ¡Celebre la Fiesta de Nuestra Señora de Guadalupe con nosotros en la Parroquia Sagrada Familia!
Our Lady of Victories in Sayreville, invites everyone to their Christmas Shoppe event on December 2nd, Saturday from 10a-4pm. / Nuestra Señora de las Victorias en Sayreville, invita a todos a su evento de tienda navideña el sábado 2 de diciembre de 10am – 4pm.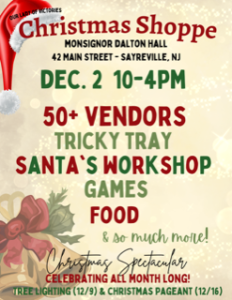 For general news, please refer to these sites:
Also, please follow our Twitter & Facebook feed for more news that might be of timely interest to parishioners.
And for news from the Diocese of Metuchen, please visit the following: