¡Formación de Fe 2022 ahora ha regresado a sesiones totalmente EN PERSONA!
Tenga en cuenta que ya no habrá boletines semanales de Formacion de Fe por correo electrónico.
Nos complace anunciar que nuestras clases volverán a ser totalmente presenciales (sin reuniones virtuales), con tiempo para reunirse en grupos pequeños por nivel de grado. Dado que estamos en el proceso de transición a este nuevo formato y capacitación de nuestros catequistas, estamos planeando que este formato de clase comience en agosto.
Nuestro programa de educación religiosa incorpora crecimiento espiritual y aprendizaje para miembros de la familia de todas las edades. Las reuniones mensuales de en persona incluyen actividades que promueven la discusión y el aprendizaje. Para crecer nuestra fe, es importante unirnos para compartir ideas y ayudar a apoyar a nuestros hijos. Nuestras reuniones mensuales ofrecen actividades familiares interactivas sobre el tema del mes. (Consulte el calendario a continuación para conocer las fechas y horas de las reuniones en persona).
¿Busca actualizaciones durante el año de Formación de Fe? ¡Consulta esta página web, Facebook y Twitter!
Facebook: Holy Family Parish                 Twitter: @HolyFamily4all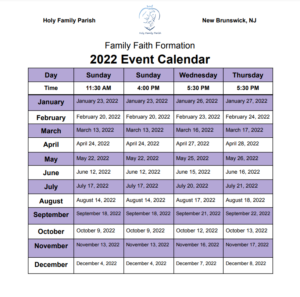 —————————————————————————————–
Family Faith 2022 has now returned to fully IN-PERSON sessions!
Please note, there will no longer be weekly Family Faith Newsletters via email. 
We are happy to announce that our classes will return to fully In-Person classes (no virtual meetings), with time to meet in small groups by grade level. Since we are in the process of transitioning to this new format and training our catechists, we are planning for this new class format to begin in August. 
Our religious education program incorporates spiritual growth and learning for family members of all ages. The monthly in-person sessions will include activities that promote discussion and learning. To grow our faith, it is important to come together to share ideas and help to support our children. Our monthly meetings provide interactive family activities based upon the theme. (See the calendar below for dates and times of monthly in-person sessions.)
Looking for updates throughout the Family Faith year? Check this webpage, Facebook and Twitter!
Facebook: Holy Family Parish                 Twitter: @HolyFamily4all
Family Faith 2022 Dates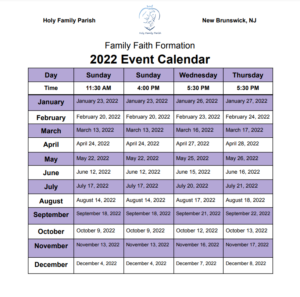 2022 Newsletters:
June 19, 2022
–English
–Español
June 12, 2022
–English
–Español
June 5, 2022
–English
–Español
May 29, 2022
–English
–Español
May 22, 2022
–English
–Español
May 15, 2022
–English
–Español
April 24, 2022
–English
–Español
April 17, 2022
–English
–Español
April 10, 2022
–English
–Español
April 3, 2022
–English
–Español
March 27, 2022
–English
–Español
March 20, 2022
–English
–Español
March 13, 2022
–English
–Español
March 6, 2022
–English
–Español
February 27, 2022
–English
–Español
February 20, 2022
–English
–Español
February 13, 2022
–English
–Español
February 6, 2022
–English
–Español
January 30, 2022
–English
–Español