¡Formación de Fe 2022 ha comenzado!
Nuestro programa de educación religiosa incorpora crecimiento espiritual y aprendizaje para miembros de la familia de todas las edades. Las reuniones mensuales de zoom/en persona y los boletines semanales incluyen actividades que promueven la discusión y el aprendizaje. Como padres, es nuestro trabajo modelar y enseñar nuestra fe a nuestros hijos. La Parroquia de la Sagrada Familia valora y aprecia a los padres porque son los maestros más importantes para nuestros hijos. La Formación de Fe ofrece recursos a los padres para convertirse en los modelos espirituales de fe más importantes de nuestros hijos. 
Para crecer nuestra fe, es importante unirnos para compartir ideas y ayudar a apoyar a nuestros hijos. Nuestras reuniones mensuales ofrecen actividades familiares interactivas sobre el tema del mes. (Consulte el calendario a continuación para conocer las fechas y horas de las reuniones de zoom mensuales). Además, el boletín semanal de la Formación de Fe coincide con las lecturas de la Misa los domingos para apoyar una comprensión más profunda de las lecturas y los mensajes de la Biblia. Tanto las reuniones mensuales de zoom/en persona como los boletines informativos semanales actúan como un trampolín para la discusión espiritual y el aprendizaje de las familias.
Como parroquia, somos responsables de mantener la asistencia a través de la Diócesis. La asistencia se tomará de las respuestas al formulario en el boletín semanal y la asistencia a las sesiones mensuales de zoom/en persona.
¿Busca actualizaciones durante el año de Formación de Fe? ¡Consulta esta página web, Facebook y Twitter!
Facebook: Holy Family Parish                 Twitter: @HolyFamily4all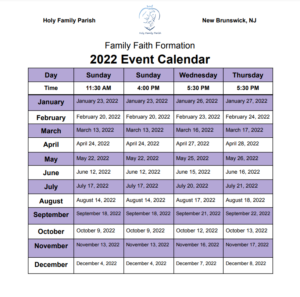 —————————————————————————————–
Family Faith 2022 has begun!
Our religious education program incorporates spiritual growth and learning for family members of all ages. The monthly zoom/in person meetings and weekly newsletters include activities that promote discussion and learning. As parents, it is our role to model and teach our faith to our children. Holy Family Parish values and appreciates parents as they are the most important teachers to our children. Family Faith provides parents the resources to become our children's most important spiritual role models in faith.
To grow our faith, it is important to come together to share ideas and help to support our children. Our monthly meetings provide interactive family activities based upon the theme. (See the calendar below for dates and times of monthly zoom meetings.) In addition, the weekly Family Faith Newsletter coincides with Sunday Mass Reading to support a deeper understanding of the Readings and messages from the Bible. Both the monthly zoom/in person meetings and weekly newsletters act as a springboard to spiritual discussion and learning for families. 
As a parish, we are accountable for maintaining attendance through the Diocese. Attendance will be taken from weekly newsletter responses and attendance at monthly zoom/in person sessions. 
Looking for updates throughout the Family Faith year? Check this webpage, Facebook and Twitter!
Facebook: Holy Family Parish                 Twitter: @HolyFamily4all
Family Faith 2022 Dates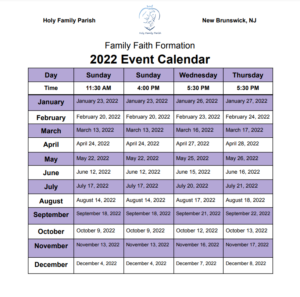 2022 Newsletters:
May 22, 2022
–English
–Español
May 15, 2022
–English
–Español
April 24, 2022
–English
–Español
April 17, 2022
–English
–Español
April 10, 2022
–English
–Español
April 3, 2022
–English
–Español
March 27, 2022
–English
–Español
March 20, 2022
–English
–Español
March 13, 2022
–English
–Español
March 6, 2022
–English
–Español
February 27, 2022
–English
–Español
February 20, 2022
–English
–Español
February 13, 2022
–English
–Español
February 6, 2022
–English
–Español
January 30, 2022
–English
–Español