¡Están abiertas las inscripciones para las clases de Fe Familiar para el 2022!
Llena la solicitud aquí: Formación de Fe 2022
¡Están abiertas las inscripciones para las clases de Fe Familiar para el 2022! Esperamos que nuestra Formación de fe familiar del 2022 brinde mayores oportunidades para compartir y reunirse en familia. A partir de enero, comenzaremos nuestro programa virtualmente con boletines semanales y reuniones de zoom mensuales. Dado que el clima es demasiado frío para reunirnos en persona afuera, dependiendo del progreso de la pandemia, exploraremos diferentes opciones para reunirnos bajo techo. Con suerte, para la primavera, nuestro objetivo es hacer la transición de las reuniones de zoom mensuales a las clases en persona, similar a nuestro Programa de Fe en Familia antes de la pandemia.
¡Esperamos que se una a nosotros para hacer crecer la fe de su familia durante el próximo año que comienza en enero de 2022! Para inscribir a su hijo en la Educación Religiosa de Fe en Familia 2022, complete y envíe este formulario. Tenga en cuenta lo siguiente:-
La inscripción incluye 3 elementos:
PASO 1: Complete y envíe este formulario de registro en línea.
PASO 2: Pago por familia
$ 70 – 1 niño / 1 padre O
$ 100 – Familia (si hay más de 1 niño registrado)
PASO 3: Copias de los Certificados de Bautismo / Comunión de cada niño (si aún no hay copias de los certificados en expedientes de años anteriores).
Para inscribirse en los cursos de Fe Familiar, debe ser feligrés de la parroquia de la Sagrada Familia. Si desea registrarse como feligrés, por favor llame a la Oficina Parroquial al (732) 545-1681 ext 101.

Complete un formulario de registro por separado para cada niño. Una vez que envíe un formulario, habrá una opción para completar un formulario adicional si desea registrar a otro niño.

La inscripción en línea finalizará el viernes 10 de diciembre.

Una vez que se envíe un formulario de inscripción en línea para cada niño (PASO 1), llame a la oficina y programe una cita para dejar el pago y los certificados de los sacramentos de su hijo (si corresponde).
¿Busca actualizaciones durante el año de Formación de Fe? ¡Consulta esta página web, Facebook y Twitter!
Facebook: Holy Family Parish                 Twitter: @HolyFamily4all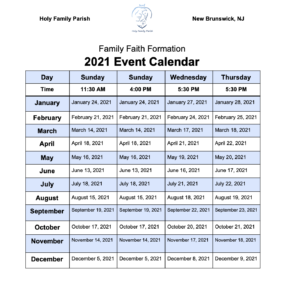 —————————————————————————————–
Registration for Family Faith 2022 is Open!
Fill out the application here: Family Faith 2022
Registration for Family Faith 2022 open! We hope our Family Faith Formation 2022 will provide greater opportunities for family sharing and meeting together. Beginning in January, we will start our program virtually with weekly newsletters and monthly zoom meeting. Since the weather is too cold to meet in-person outside, depending on the progress of the pandemic, we will explore different options to meet inside. Hopefully, by the spring time, our goal is to transition from monthly zoom meetings to in-person classes, similar to our Family Faith Program prior to the pandemic.
We hope you will join us in growing your family's faith during our next year that starts in January 2022! To register your child for Family Faith Religious Education 2022, please complete and submit this form. Kindly note the following:
-Registration includes 3 items:
STEP 1: Complete and submit the online registration form.
STEP 2: Payment for family
$70 – 1 Child/1 Parent OR
$100 – Family (if more than 1 Child is registered)
STEP 3: Copies of Baptism/Communion Certificates for each child (if copies of certificates are not already on file from previous years).
To register for Family Faith Formation, you must be a parishioner of Holy Family Parish. If you would like to register as a parishioner, please call the Parish Office (732) 545-1681 ext 101.

Complete a separate registration form for each child. Once you submit a form, there will be an option to complete an additional form if you would like to register another child.

Online registration will end on Friday, December 10

.

Once an online registration form is submitted for each child (STEP 1), please call the office and make an appointment to drop off payment and your child's certificates of sacraments (if applicable).
Looking for updates throughout the Family Faith year? Check this webpage, Facebook and Twitter!
Facebook: Holy Family Parish                 Twitter: @HolyFamily4all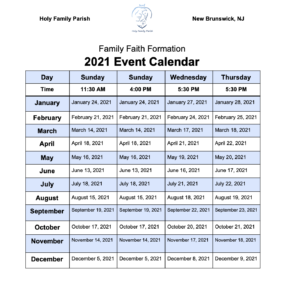 2021 Newsletters:
Week of November 29
–English
–Español
Week of November 21
–English
–Español
Week of November 14
–English
–Español
Week of November 7
–English
–Español
Week of October 31
–English
–Español
Week of October 24
–English
–Español
Week of October 17
–English
–Español
Week of October 10
–English
–Español
Week of October 3
–English
–Español
Week of September 26
–English
–Español
Week of September 19
–English
–Español
Week of September 12
–English
–Español
Week of September 5
–English
–Español
Week of August 29
–English
–Español
Week of August 22
–English
–Espanol
Week of August 15
–English
–Español
Week of August 8
–English
–Español
Week of August 1
–English
–Español
Week of July 25
–English
–Español
Week of July 18
–English
–Español
Week of July 11
–English
–Español
Week of July 4
–English
–Español
Week of June 27
–English
–Español
Week of June 20
–English
–Español
Week of June 13
–English
–Español
Week of June 6
–English
–Español
Week of May 30
–English
–Español
Week of May 23
–English
–Español
Week of May 16
–English
–Español
Week of May 9
–English
–Español
Week of May 2
–English
–Español
Week of April 25
–English
–Español
Week of April 18
–English
–Español
Week of April 11
–English
–Español
Week of April 4 (No family form this week)
–English
Week of March 28
–English
–Español
Week of March 21
–English
–Español
Week of March 14
–English
–Español
Week of March 7
–English
–Español
Week of February 28
–English
–Español
Week of February 21
–English
–Español
Week of February 14
–English
–Español
Week of February 7
–English
–Español
Week of January 31
–English
–Español