Programa de Formacion de Fe de la Parroquia de la Sagrada Familia: Vision General
Nuestro programa de educación religiosa virtual incorpora crecimiento espiritual y aprendizaje para miembros de la familia de todas las edades. Las reuniones incluyen actividades que promueven la discusión y el aprendizaje. Como padres, es nuestro trabajo modelar y enseñar nuestra fe a nuestros hijos. La Parroquia de la Sagrada Familia valora y aprecia a los padres porque son los maestros más importantes para nuestros hijos. La Formación de Fe ofrece recursos a los padres para convertirse en los modelos espirituales de fe más importantes de nuestros hijos. 
Para crecer nuestra fe, es importante unirnos para compartir ideas y ayudar a apoyar a nuestros hijos. Nuestras reuniones mensuales ofrecen actividades familiares interactivas sobre el tema del mes. (Consulte el calendario a continuación para conocer las fechas y horas de las reuniones de zoom mensuales). Las reuniones mensuales actúan como un trampolín para la discusión espiritual y el aprendizaje de las familias.
Como parroquia, somos responsables de mantener la asistencia a través de la Diócesis. La asistencia se tomará en cada clase.
¡La inscripción para Extended Family Faith 2022 está

cerrada

!
Para registrarse en el año extendido de la Formación de fe 2022 (enero de 2023 a junio de 2023), lea, complete y envíe este formulario.
Hay cupo limitado disponible para cada clase. Las registraciones cierran el viernes 23 de diciembre (o antes si las clases se llenan antes del 23 de diciembre).
La inscripción incluye 3 elementos:
PASO 1: Complete y envíe este formulario de registro en línea.
PASO 2: Pago por familia
$50 – 1 hijo/1 padre
O
$75 – Familia (si hay más de 1 niño registrando) 
PASO 3: Copias de los Certificados de Bautismo/Comunión para cada niño (si las copias de los certificados de años anteriores no están ya archivadas).
Para inscribirse en la Formación de Fe Familiar, deben ser feligrés de la parroquia de la Sagrada Familia. Si desea registrarse como feligrés, llame a la Oficina Parroquial (732) 545-1681 ext 1002.

Complete un formulario de registro

por cada niño

. Una vez que envíe un formulario, habrá una opción para completar un formulario adicional si desea registrar a otro niño.

Una vez que se envíe un formulario de registro en línea para cada niño (PASO 1), pase por la oficina para dejar el pago y los certificados de sacramentos de su hijo (si corresponde). El horario de la oficina es de lunes a jueves de 9:30 am a 4 pm o viernes. 9am-12pm.
¿Busca actualizaciones durante el año de Formación de Fe? ¡Consulta esta página web, Facebook y Twitter!
Facebook: Holy Family Parish                 Twitter: @HolyFamily4all
Handout-Family Faith 2023 Dates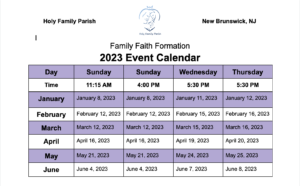 —————————————————————————————–
Holy Family Parish Family Faith Program: Overview
Our virtual religious education program incorporates spiritual growth and learning for family members of all ages. Our monthly family meetings include specific grade levels and family activities that promote discussion and learning. As parents, it is our role to model and teach our faith to our children. Holy Family Parish values and appreciates parents as they are the most important teachers to our children. Family Faith provides parents the resources to become our children's most important spiritual role models in faith.
To grow our faith, it is important to come together to share ideas and help to support our children. Our monthly meetings provide interactive family activities based upon the theme. (See the calendar below for dates and times of our in-person monthly meetings.) These classes act as a springboard to spiritual discussion and learning for families. 
As a parish, we are accountable for maintaining attendance through the Diocese. Attendance will be taken at each class.
Registration for Extended Family Faith 2022 is CLOSED!
To register for our Extended Family Faith Year 2022 (January 2023-June 2023), please read, complete, and submit this form.
Limited space is available for each class. Online registration ends on Friday, December 23 (or sooner if classes fill prior to December 23).
Registration includes 3 items:
STEP 1: Complete and submit this online registration form.
STEP 2: Payment for family
$50 – 1 Child/1 Parent
OR
$75 – Family (if more than 1 Child is registered)
STEP 3: Copies of Baptism/Communion Certificates for each child (if copies of certificates are not already on file from previous years).
To register for Family Faith Formation, you must be a parishioner of Holy Family Parish. If you would like to register as a parishioner, please call the Parish Office (732) 545-1681 ext 1002.

Complete a separate registration form for each child. Once you submit a form, there will be an option to complete an additional form if you would like to register another child.

Once an online registration form is submitted for each child (STEP 1), please stop by the office to drop off payment and your child's certificates of sacraments (if applicable). Office hours are Mon-Thurs 9:30am-4pm or Fri. 9am-12pm.
Looking for updates throughout the Family Faith year? Check this webpage, Facebook and Twitter!
Facebook: Holy Family Parish                 Twitter: @HolyFamily4all
Handout-Family Faith 2023 Dates