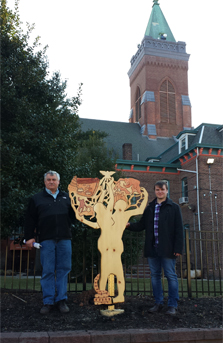 Parish Gardens (St. Isidore, Resurrection, St. Ladislaus, Pope Francis)
NOTE: Due to an extensive house fire to an adjacent house, the Resurrection Garden is OUT OF SERVICE for 2019. We apologize for the inconvenience.

The mission of St. Isidore's Field (corner of Throop and Townsend) and the Pope Francis Garden (grounds of Ss. Peter and Paul Byzantine Catholic Church), Resurrection Garden (corner of George St. and Throop Ave.) and the St. Ladislaus residence garden is to give glory to God and creation by tending and protecting the earth, and by growing and harvesting its bounty. This gardening experience  also integrates prayer and worship, art, education and leadership development to create deeper faith connections and to more fully develop each participant's God-given human potential.

St. Isidore Field is an active 12-month space. Wood cutout art installations crafted by our parish artist Pavol Olsavsky portrays stories of salvation history and popular devotion during the non-growing season. Each year on the feast of St. Isidore (May 15) we will have a special Mass and blessing of the gardens. In 2015, we added 12 plots at the new Pope Francis Garden. (There is one plot on the St. Ladislaus grounds already!). We would like to have approximately 100 family plots going and growing within three years. For more information, contact Ellen Maughan at the Throop Avenue Center.

For more garden information, click HERE for our information brochure.