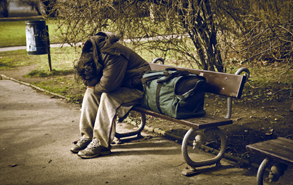 New Brunswick Interfaith Emergency Men's
Shelter (Homeless Ministry)
Holy Family Parish participates in the New Brunswick Interfaith Emergency Men's Shelter. The shelter provides overnight shelter for 15 homeless men during the winter months. Twice a year, we take a week housing our guests from 7pm-7am, Sunday through Saturday.

Eight other houses of worship in the city take turns in the hosting ministry.

At Holy Family, we've developed a structure where two or three parishioners serve as nightly hosts, staying overnight with the men in the parish hall at Throop Avenue.

Other parishioners provide meals - either cooking in the parish hall kitchen or bringing cooked food.  Our parish Vincentian Conference is particularly strong in this effort.

Volunteers are welcome to participate in the program. Contact Miryam Gonzalez at miryamg@holyfamilyforall.org or call 732-545-1681, EXT 1005.