A Select History of the former Sacred Heart Parish
The Rt. Rev. M.J. O'Farrell, D.D., Bishop of Trenton, on June 8, 1883, divided the old parish of St. Peter's, New Brunswick, and created a new parish, consisting of the First and Second Wards, with the county adjacent, and sent the Rev. B.J. Mulligan as Pastor of the same, with the authority to form the new parish, purchase land, erect the necessary buildings, etc.  (Church of the Sacred Heart Golden Jubilee; The Glorious History of Fifty Years, New Brunswick, N.J., 1933, p.5.)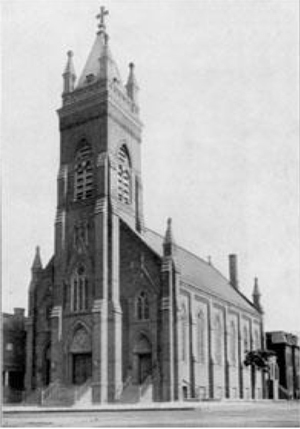 The third oldest Catholic church in the city of New Brunswick, the Church of the Sacred Heart was designed by Patrick Charles Keely, one of the leading ecclesiastical architects of the 19th century. Keely, many of whose churches have been designated historic landmarks, was responsible for the design of some twenty cathedrals, including those Charleston, Cleveland, Buffalo, and Hartford, as well as St. Patrick's Pro-Cathedral in Newark. In September of 1883, Keely drew up plans for a brick church which was to measure 122×60 and cost approximately $30,000–roughly $500,000 in current dollars. While certainly not an exorbitant price, finding the funds would require sacrifice on the part of the new parish's largely Irish, largely immigrant members.
On October 14, 1883, the cornerstone of the Church was laid by Bishop John O'Farrell with over 5000 people in attendance. By November 30th, with many of the future parishioners providing the labor, the walls of the new church had been erected to a height of about 15 feet. Determined to celebrate Christmas in their own church, they built a temporary roof over the structure and on Christmas Eve of 1883 the first mass was celebrated in the basement of the Church. In 1984, when the Church was undergoing renovations in preparation for its centennial celebration, the original altar at which that first mass was celebrated was uncovered. Today it forms the nucleus of the lower church chapel where daily mass is said.
Newly uncovered old altar (photo taken in 1984.)

Sacred Heart hall chapel as it is today
By 1886, construction had progressed to the point where attention could be focused on interior decoration. On May 26, 1886 the original high altar, a gift of the parish and designed by Theis and Tracy of New York City, was consecrated. We are told that "The inscription placed within the altar notes the names of saints, whose relics are contained therein, and also the granting of a special indulgence to the members of the parish…" [West, 1933]. Throughout its history, Sacred Heart has had to rely on the generosity of its parishioners. Most paintings, statues, stained glass windows, and other furnishings (including the rest room!) were all acquired as gifts.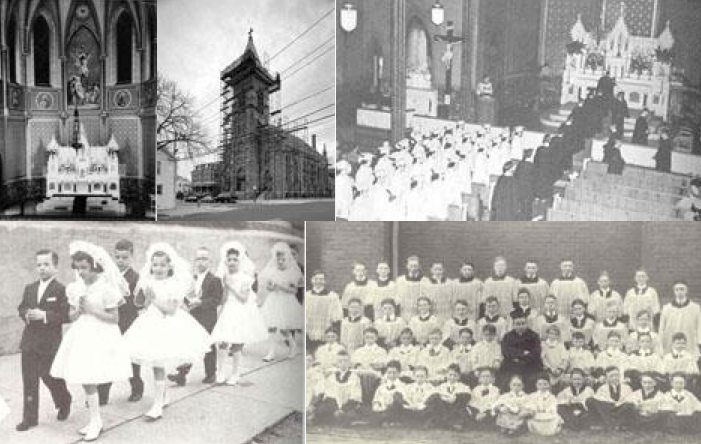 One of Sacred Heart's major early benefactors was Simon Carter. The original side altars, one dedicated to the Virgin Mary and the other to St. Joseph, were the gift of Simon and Mary Carter. (The original altar niches were sealed in 1958). In 1885, Carter paid for a church bell to be cast by the McShane Foundry of Baltimore. The bell, which to this day calls the people of Sacred Heart to worship, bears a Latin inscription which translates as:
This bell was donated in honor of the most Sacred Heart of Our Lord Jesus Christ by Simon Carter. "Who has ears to hear, Let him hear."
The tower which houses the bell and the spire was not completed until 1907. P.H. Hendricks & Son received $6,627–the equivalent of $110,500 in 1998 dollars–for the construction.  A late 2016 brick repair of a small portion of that same tower cost about $100,000 alone!
A NEW BRUNSWICKI
EGYHÁZKÖZSÉG MEGALAKULÁSA