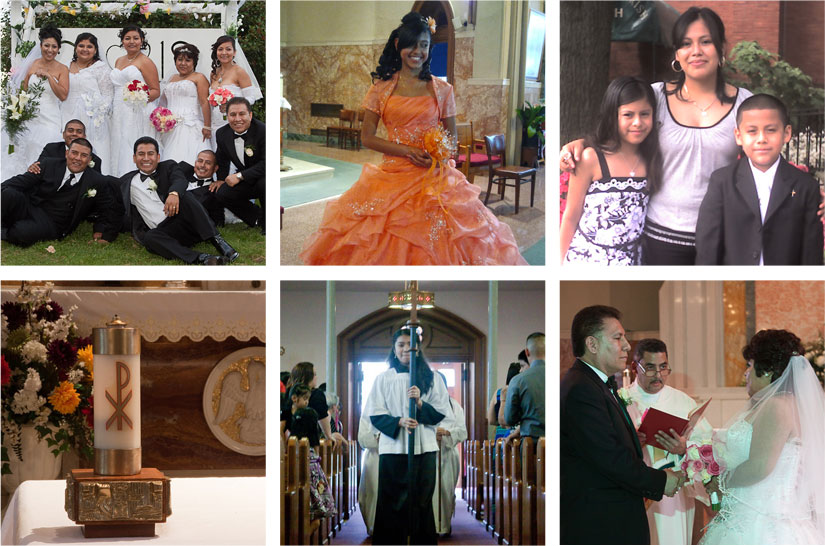 Baptism
We aim to be as welcoming and formative as possible in preparing for and celebrating the Sacrament of Baptism. The Baptism Information Form can be downloaded and printed here. For information about Baptism, contact Rocio Ramos or call her at 732-545-1681, extension 102.  We usually celebrate Baptism communally, twice monthly on Saturday afternoons, or during a Sunday Mass, or, rarely, a liturgy for a single family.
Reconciliation
Usually available by appointment with a priest at the parish center, or during the monthly and seasonal Reconciliation Services rotated among our three churches. We also publish the times and sites for area celebrations of the Sacrament of Reconciliation. At Holy Family's founding in 2014, we are blessed to have priests who can celebrate the sacrament in English, Hungarian, Polish, Slovak and Spanish.
Holy Eucharist
If you or a family member is homebound or hospitalized and would like to be visited by a Eucharistic minister, or if you need to receive low-gluten hosts, please contact Joseph Szabo.
Anointing
Contact Rocio Ramos at the parish center to arrange to be anointed in the church before surgery or to be visited at home when ill.
Here is a summary of area hospitals and chaplains' contact numbers: Saint Peter's University Hospital: Chaplains: Deacon Jim Tesoriero and Father Peter Suhaka; Pastoral Care Office (732) 745-8565. Somerset Medical Center:  Chaplains: Rev. John Primich; Mon-Tues.; Rev. Chester Zaslubski, Wed.- Sun.; Pastoral Care Office (908) 685-2200 ext. 2425. University Medical Center of Princeton (Plainsboro):  Religious Ministries Department: (609) 853-6020.  JFK Medical Center:Chaplain: our own Rev. Pauly Thekkan, Pastoral Care Office (732) 321-7000 ext. 7512. Morristown Memorial Hospital: Chaplains: Rev. Zbigniew Kluba and Rev. Volodymyr Baran; Pastoral Care Office (973) 971-5000 ext. 5170. Robert Wood Johnson University Hospital: Catholic chaplains: members of the Vocationist order. Pastoral Care Office (732) 828-3000 ext. 8504. (Please note that area hospital chaplaincies have frequent personnel turnover, so listed names may not be current at the time of your family event.)
Marriage
Couples planning a wedding at Holy Family are required to be registered parishioners and actively supporting the parish for at least one year before the wedding. Exceptions may be made. Besides meeting diocesan guidelines, couples must commit to community service projects throughout the engagement period. Early notice about wedding plans is required so that a date can be scheduled. For initial contact, call the parish center or send an email to Rocio Ramos.